Milk of Magnesia
by Pharmaceutical Associates
MFR #
00121-0431-30


NSN

6505-00-118-1573
---
About this product
Quantity 100 per case. individually sealed, 30 milliliter cups
Product images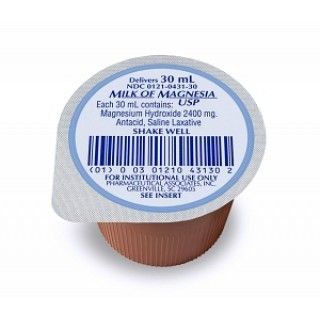 Add to Cart
Up to quantity 1 ships same day.
$419.99/Box
More over the counters and antacids
67627510 Gas X

MFR #: 67627510
Antacid Gas-X 125 mg Strength Capsule 10 per Box. Simethiconehelps break up gas bubbles in the gut.
536113188 Esomeprazole Mag

MFR #: 536113188
Non-stock item, special order from supplier. Approximate delivery is 2-4 weeks . Acid reducer helps treat frequent heartburn that occurs two or more days each week Compare to Nexium 24Hr active ingredient.
GLUTOSE-15 Dextrose Oral Gel

NSN: 6505-01-425-3168 MFR #: GLUTOSE-15
3 Pack. 15 grams of glutose gel tubes with twist off tops. delivers 15 grams of pure glucose (dextrose) for rapid response to hypoglycemia, tube with a 2-year shelf life and no artificial dyes or coloring. 15 grams of carbohydrates, in a one-dose tube, el
3-0088-1175-47-8 Alumina and Magnesium Trisilicate

NSN: 6505-00-148-4631 MFR #: 3-0088-1175-47-8
Quantity 100 per bottle. Antacid chewable tablets. Made with dried aluminum hydroxide gel and magnesium carbonate for fast relief, relieves heartburn and acid indigestion.